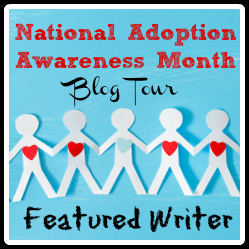 Today is National Adoption Day. It also happens to be my turn to post in our National Adoption Awareness Month Blog Tour, which means I need to write about something.
I suppose having to write about something on such a big day has left me without ideas on what to write about.
But before I forget - enter the giveaway brought to you by our adoption bloggers tour at the bottome of this post! Because who doesn't love amazon? C'mon, seriously.
Okay, so I had planned a post in adoption traditions (which I still want to put together because I love love love traditions), but when it came down to it, that just didn't feel like the right thing to contribute today. I don't really know what does, so here goes me winging it.
This month I have seen so much emotion around adoption. It has been overwhelming, & despite my beautiful babies not having been adopted during National Adoption Month, of course it has brough back sweet memories of our own adoptions. Not that they were terribly long ago, but it's easy in the day-to-day to be distracted & forget momentarily what a miracle it is that our family has come together like it has.
A couple of weeks ago, our dear friends adopted their sweet daughter; a micro-preemie who spent the first months of her life in the NICU & is now a thriving, bright-eyed baby, rapidly approaching her 1st birthday. The joy in their family is so apparent & infectious. I can't get enough of it.
The same friend went to court for their other sweet baby & got some good news; when she called me after court to tell me, I surprised myself by bursting into hot, happy tears, & realized that what another friend had told her - that they had never prayed so hard for a baby that wasn't theirs - was also true for me. I had been praying so fervently for this beloved, joyful baby to stay safe & healthy with the only family he had known. And that is closer now than it was, & I was just overcome.
Last week I saw my new cousin, 3-year-old Little Man E, officially become a member of our family. It was an incredibly sweet ceremony in a smaller neighboring county courthouse, where all of the friends & family present came up & were sworn in. We all stated our names & relationship. We watched Little Man act adorably silly - knowing the attention was on him but not really knowing why - & saw my aunt & uncle smile from ear to ear & hold back tears.
And then Little Man ate pavement outside, bringing an abrupt bump to his little forehead & an abrupt end to our little family photo session. It was a very him thing to do on his adoption day. ;)
The whole day was just - lovely. It was gorgeous & simple & about family. Some of his birth family was there & I had the privilege of talking to them & hearing their love for him & it was so touching. We ate cupcakes & took pictures & on the way home we listened to the sweet, breathy sound of our getting-bigger-babies sleep in the back of the car, & I just wanted to cry & scream & shout from the rooftops that family is amazing.
I thought of how he is now one less of the 107,000+ children waiting to be adopted. I thought of all the children being adopted this month & hoped they would be as celebrated & prayed for families for those still waiting.
A few nights ago I read Love You Forever to the boys, & Mr. P, who has been struggling a lot in school this year & often asks after a bad day if we still love him, said "You will always love us like that because you will always be our mom." It wasn't a question. It made me want to burst. Then at the end of the book he said "When you are old like that & you die, you can go to heaven like Grandma V & wait for us, & we won't forget you. We will just come to you when we die too, & you can say 'I am so happy to see you!'"
The way his little mind processes this life is just so tender.
Above, in random order: Sweet G in my wedding dress & the adoption dress my mom made for her from the material; the boys' adoption announcement pictures & us together at the courthouse; the display at Sweet G's adoption party with a "Gotcha" banner made by Auntie Chelsea; a photo of our big ol' group at the courthouse, for the boys' adoption, a copy of which sits framed in Little J's classroom at school because his teacher was so touched by it when he brought it in during family week that she kept it on display; the boys helping at the supermarket donning the sweetest gift they got - sweaters hand appliqued by my dear friend Melissa with their initials & the words "Team Hardy."
Today it rained. It was really cold, & our kids stayed in their jammies all day & played. We made stew & warm cookies & listed to Christmas music. We had a few timeouts, a few raised voices, lots of whining.
We also had hugs & snuggles & singling.
It was just family. In the most normal form I can imagine. In the way I dreamed about it during the many months we tried & tried to conceive a child. I actually told Jessman today this is what I wanted, exactly this.
I still grieve what my children lost. I still wish they wouldn't have to one day know that pain, because it will always matter.
Blood matters. So much. But it's not the biggest thing that matters.
Safety matters.
Healthy matters.
Being there matters.
Love matters. It's all about love.
Happy National Adoption Day.
a Rafflecopter giveaway